Residents who live in these 25 growing towns see their incomes go the furthest.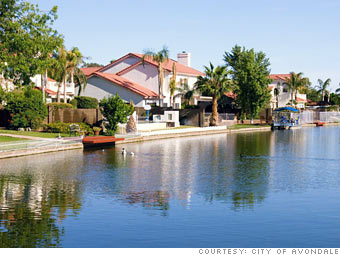 Median home price: $111,100
Median family income (per year): $70,672
Right next door is Avondale, a Phoenix suburb with a strong Latin accent. The community is nearly 50% Hispanic, and it draws people in search of affordable homes. Today, most sell for no more than $280,000, which buys a big four-bedroom house. There are foreclosures, sold as is, for as little as $26,000.
There's a golf course and ball fields here, plus wetlands on the banks of the Gila River, which hosts many species of birds. Day trip destinations include the Red Rock country around Sedona and the gorgeous deserts in and around Organ Pipe Cactus National Monument.
The following two tabs change content below.
Seasoned chief executive and entrepreneur with proven track record. Mr. Zar brings more than twenty years experience in operations, evaluation, investment and management of real estate assets. Sean is responsible for new asset origination, evaluation, analysis and due diligence as well as overall executive direction. Mr. Zar also gained insight into capital markets as the founder and president of CBA Capital, Inc., a Newport Beach, CA based investment bank and venture capital company. He also was the founder and CEO of American Income Securities, an investment company with more than $50 million in client assets. He also managed a technology venture capital fund where he was responsible for equity and debt investments in a wide variety of companies. Mr. Zar sold his interest in American Income Securities in 1999. Mr. Zar has been an active real estate investor in Arizona as well as Colorado and Southern California. Mr. Zar is focused on discovering undervalued properties.